22 Gifts for Movie Buffs
December 3, 2020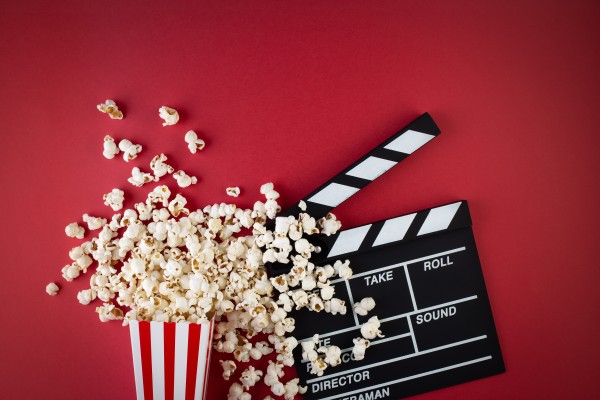 Looking for a gift for your favorite cinephile? Check out these suggestions to celebrate their love of film!
1. Ticket Stub Diary
Are you friends with a movie buff who has a shoebox full of ticket stubs from every movie they've ever seen? Then they will love this ticket stub diary to preserve their memories! With sleeves to store the tickets and lined margins to jot down notes about the event, this album will allow your friend to revisit their favorites for years to come.
2. 100 Movies Scratch Off Poster
Do you have a movie buff in your life who has made it their mission to watch everything from Oscar-winning films to critically acclaimed favorites? Help them keep track with this unique scratch off poster! When all of the movies have been revealed, this will make a lovely piece of decor that any cinephile would love to have on display to celebrate their love of the movies.
3. Cinephile: A Card Game
Test your movie knowledge with this card game that will test your knowledge of pop culture and film! With multiple ways to play varying by difficulty, you and your friends can compete to see who can remember Sean Connery's lesser-known films, Cate Blanchett's filmography, and Steve Buscemi's most memorable cameos.
4. Movie Quotes Drinking Game
Turn your favorite quotes into a party game! Let's be honest, the movie buffs in your life are going to say these quotes no matter what, so you might as well turn it into a competition. You probably won't get an Oscar if you win, but you and your fellow competitors could let the winner choose the flick for your next movie night!
5. Gone with the Gin by Tim Federle
Know someone who loves to throw movie-themed parties? This could be the perfect addition to their hosting repertoire! With commentary, drinking games, and movie-themed munchie suggestions, some of the drinks included are Fight Club Soda, A Sidecar named Desire, Ben-Hurricane, Ti-tonic, The Big Le-Brewski, Monty Python and the Stoli Grail, Bloody Mary Poppins, and more!
6. Eat What You Watch: A Cookbook for Movie Lovers by Andrew Rea
Has watching a movie ever made you hungry? Us, too. Thankfully, there's a film-inspired cookbook to satisfy those cravings! From the publisher: "Many of our favorite movies come with a side of iconic food moments: the elaborate timpano from Big Night, Charlie Chaplin's dancing dinner rolls in The Gold Rush, the orgasmic deli fare from When Harry Met Sally, or the redemptive birthday cake from Sixteen Candles. In this cookbook, author Andrew Rea (of the hit YouTube channel "Binging with Babish") recreates these iconic food scenes and many more. With recipes from more than 40 classic and cult films, Eat What You Watch is the perfect gift for both movie buffs and home cooks who want to add some cinematic flair to their cooking repertoire."
7. Cinemaps: An Atlas of 35 Great Movies by Andrew DeGraff and A.D. Jameson
Explore some of your favorite movie worlds in this beautifully illustrated book! From the publisher: "Acclaimed artist Andrew DeGraff has created beautiful hand-painted maps of all your favorite films, from King Kong and North by Northwest to The Princess Bride, Fargo, Pulp Fiction, even The Breakfast Club—with the routes of major characters charted in meticulous cartographic detail. Follow Marty McFly through the Hill Valley of 1985, 1955, and 1985 once again as he races Back to the Future. Trail Jack Torrance as he navigates the corridors of the Overlook Hotel in The Shining. And join Indiana Jones on a globe-spanning journey from Nepal to Cairo to London on his quest for the famed Lost Ark. Each map is presented in an 9-by-12-inch format, with key details enlarged for closer inspection, and is accompanied by illuminating essays from film critic A. D. Jameson, who speaks to the unique geographies of each film."
8. The Wes Anderson Collection by Matt Zoller Seitz
We all have that one friend that can't get enough of Wes Anderson's movies, and this is the perfect coffee table book for them! From the publisher: "Writer/director Wes Anderson guides movie/television critic Matt Zoller Seitz through Anderson's life and career in a hardcover book-length conversation, woven together with original illustrations and production images from Bottle Rocket, Rushmore, The Royal Tenenbaums, The Life Aquatic with Steve Zissou, The Darjeeling Limited, Fantastic Mr. Fox, and Moonrise Kingdom. The result is a meticulously designed book that captures and reflects the spirit of Wes Anderson's movies: melancholy, playful, wise, and wonderfully unique."
9. The Film That Changed My Life: 30 Directors on Their Epiphanies in the Dark by Robert K. K. Elder
Learn more about the books that shaped your favorite directors! From the publisher: "Rebel Without a Cause inspired John Woo to comb his hair and talk like James Dean. For Richard Linklater, 'something was simmering in me, but Raging Bull brought it to a boil.' Apocalypse Now inspired Danny Boyle to make larger-than-life films. A single line from The Wizard of Oz—'Who could ever have thought a good little girl like you could destroy all my beautiful wickedness?'—had a direct impact on John Waters. 'That line inspired my life,' Waters says. 'I sometimes say it to myself before I go to sleep, like a prayer.' In this volume, directors as diverse as John Woo, Peter Bogdanovich, Michel Gondry, and Kevin Smith examine classic movies that inspired them to tell stories. Here are 30 inspired and inspiring discussions of classic films that shaped the careers of today's directors and, in turn, cinema history."
10. The Art of the Hollywood Backdrop by Richard M. Isackes and Karen L. Maness
While we all love the beauty of the performances we witness from the actors in films, credit must also be given to the beautiful scenery that pulls every cinephile into the magical world of the movies! From the publisher: "In almost every feature film of Hollywood's golden age, from The Wizard of Oz to North by Northwest to Cleopatra to The Sound of Music, painted backings have convinced moviegoers that what they are seeing—whether the fantastic roads of Oz, the presidents of Mount Rushmore, or ancient Egyptian kingdoms—is absolutely real. These backings are at once intended to transport the audience and yet remain unseen for what they really are. The Art of the Hollywood Backdrop reveals the hidden world and creators of these masterpieces, long-guarded as a special effects secret by the major studios such as MGM, Warner Brothers, Universal, Columbia, 20th Century Fox, and Paramount."
11. Hollywood: Her Story, an Illustrated History of Women and the Movies by Jill Tietjen and Barbara Bridges
The perfect gift for the movie-loving feminist in your life! From the publisher: "This book pays tribute to the spirit, ambition, grit and talent of these filmmakers and artists. With more than 1200 women featured in the book, you will find names that everyone knows and loves—the movie legends. But you will also discover hundreds and hundreds of women whose names are unknown to you: actresses, directors, stuntwomen, screenwriters, composers, animators, editors, producers, cinematographers and on and on. Stunning photographs capture and document the women who worked their magic in the movie business."
12. The Bad Movie Bible by Rob Hill
Let's be honest—we all have those movies we love because they're so bad, they're good! This book is both a celebration of these movies as well as a guide book through all of your favorites, including interviews with notables like Dame Joan Collins and Tommy Wiseau. This is the perfect gift for that friend of yours who simply can't stop quoting The Room, no matter how hard you beg.
13. Whirley-Pop Popcorn Popper
Don't tell me you're still popping your popcorn in the microwave like a heathen! This popper helps you to replicate that delicious movie theater popcorn from the comfort of your own home. The Whirley-Pop makes up to 6 quarts of flawless popcorn in under 3 minutes and the patented stirring system can help eliminate burnt popcorn from your snack.
14. Gourmet Popcorn Seasoning Pack
Spice up your favorite movie snack with these gourmet flavors! This variety pack offers six different kinds of seasoning, including sweet and salty kettle corn, sizzlin' spicy sriracha, buttery caramel corn, cracked pepper asiago, tangy dill pickle, and cheezy white cheddar. There's something to satisfy adventurous movie snackers everywhere!
15. Reusable Classic Popcorn Containers
Who doesn't love a little bit of retro nostalgia with their movie snacks? Ditch the boring bowls and enjoy these vintage-style popcorn containers while you enjoy your favorite film! The movie buffs in your life will go wild for these reusable popcorn containers they can enjoy for many movie nights to come.
16. Gourmet Snack Basket
We all love the classic movie theater snacks, but sometimes you want to up the game for a romantic night in with your favorite movie buddy. Treat them to a gourmet snack basket in which to indulge while you enjoy your favorite movie together. It's date night—elevated!
17. Redbox Movie Night Care Package
It's movie night in a box! Planning your evening just became even easier. Each box contains a one night DVD rental code gift card for Redbox, two Act II Butter Lovers Popcorn packs, one 2.7oz container of Skittles, one 2oz Sour Patch Kids container, one 1.69oz pack of M&M's, one 1.8oz container of Hot Tamales, one 1.5oz container of Black Forest Gummy Bears, one 1.53oz container of Reese's, one 2.07oz Starburst container, and one 1.8oz pack of Mike and Ike. Delicious and easy, all that's left to do is pick your movie!
18. Professional Grade Studio Directors' Chairs
Decorate for the job you want, right? These chairs might not put you directly on the set of your favorite movie, but they might make you feel like you are! Plus, with chairs like these, you'll have an excuse to yell at the screen when the victims in a slasher movie are running up the stairs instead of out the front door.
19. Home Theater Streaming Blu-Ray Player with Wi-Fi
Is your favorite movie lover still watching movies on their phone or an out of date machine? Then look no further than this streaming blu-ray player with wi-fi! In addition to playing all of their favorite movies on blu-ray, this player connects to popular streaming services like Netflix so they can watch everything they love through one device.
20. Portable Projector
Take the movies wherever you go with a portable projector! This model from Kodak fits in the palm of your hand and connects to your computer, cable box, gaming console, or HDMI video player (including many phones and tablets on both iOS and Android operating systems). The onboard media player includes room-filling built-in speakers so you can enjoy up to 100" display. Perfect for home, work, travel, and more!
21. Inflatable Outdoor Movie Screen
Turn your next movie night into a backyard extravaganza! This 20' inflatable screen includes an inflation fan, ti-downs, and a storage bag while supporting both front and rear projection. Perfect for tailgating, camping, block parties, or just a family movie night in the backyard.
22. Sonos Beam Soundbar
Replicate the movie theater experience at home with high definition sound that fills the entire room! You can control the bar with your voice, a remote, the Sonos app, and Amazon Alexa is built right in so you can connect it to other Alexa devices in your home for a richer experience. Bring the theater into your home—the audience is listening!