Top 5 New Year's Resolutions and the Gifts to Help You Keep Them This Time
December 2, 2016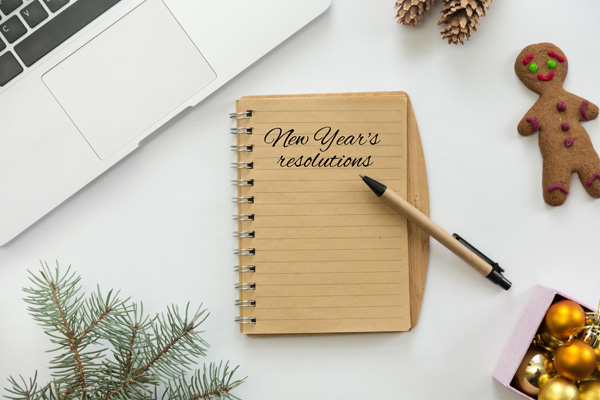 Wait, what? New Year's Resolutions... now? Yes, we know it's not even the middle of December yet. But, that's precisely why putting some of the right gifts on your wish list now, just might be the extra boost you need in keeping those resolutions later!
Here are some of the top resolutions that people have, and some gift ideas that might help make keeping them a reality:
1. Be more active. Live a healthier lifestyle. Lose weight.
After all the festive feasts topped off with holiday cookies and pie, the one thing many people long for come January 1st, is to drop that holiday weight gain. Here are a few gifts to ask for so you can begin the new year with a running start.
Fitness Tracker - What better way to keep you on the road to good health than with a new fitness tracker? Keep tabs on more than just the number of steps you take, but also your activity level, heart rate, fat burn and more. The latest Fitbit, the Fitbit Charge 2, can even take you through guided breathing exercises to remind you that one of the best ways to get healthy and release stress is to just breathe.
Blender - As they say, you are what you eat. Make it easy to get your daily dose of healthy fruits and veggies in a smoothie or shake. Or, blend up a protein-packed meal replacement with a push of a button.
Smart Scale - Monitor your progress with a smart scale. Gain knowledge and insight on your weight, BMI, percent body fat, and more. The Weight Gurus Bluetooth Smart Scale can even integrate with your smartphone, and can synch data with Fitbit, Apple's Health app and Google Fit!
2. Spend more quality time with family and friends. Less screen time - more face to face time.
We all wish we could spend more time with the ones we love, so when we do get that chance it's important to make the most of it.
Board Games - The families or friends that play together, stay together. Hilarious games like Reverse Charades where one person guesses and the rest of the team acts out the clue, or 5 Second Rule where players get 5 seconds to blurt out answers to a given category, are sure to bring plenty of laughs to your get togethers. The best part is, once you receive these games as a gift, the giver can't wait to play them with you.
3. Be more organized. Clear the clutter.
Everyone can improve in this department. A place to formulate To Do lists, brainstorm ideas and organize your schedule is of great value to anyone who plans to get more done next year. Home and office organization goes hand in hand in creating a more efficient and productive lifestyle. Add items to your wish list to help you to accomplish it all.
Daily planner - In this day and age where calendar apps tell us where to be and when, there's something different, almost therapeutic, about physically writing down your plans on paper. With all the modern and chic designs out there, there's something for anyone interested in jotting down aspirations, goals and plans for making 2017 your best year yet.
Bins and Boxes - A place for everything, and everything in its place. Utilizing them as everything from toy bins to storage for important documents, the uses of these organizational staples are endless.
4. Catch up on reading. Read more.
Is there a book you've been meaning to get your hands on? Or, a book you have that you just haven't gotten the time to finish? The new year gives us the opportunity to re-evaluate our priorities, and if reading is one of them, what better time to start than now?
Books - Start the year off by cracking open the cover of a fresh new best seller. Better yet, add an old classic to your gift list, and relive one of your old favorites.
E-reader - Squeeze in a a page here and there on a new e-reader. The convenience of e-readers is that they allow you to bring hundreds of books with you without the bulk. Plus, be it in the blazing sun or pitch black of night, your book is ready to read when you are.
5. Travel more... wisely.
It's one thing to visit all the places on your bucket list. It's another to do it right. Being a good traveler means bringing the right tools. Give people the chance to help you get on your way by putting the right items on your wish list.
New luggage and packing cubes - Whether your 2017 travel goals include trotting the globe, or simply spending the night at a local B&B, a new travel bag or suitcase is your best friend. Hardside spinners are a popular choice, especially when bouncing between airports. Smart backpacks for quick trips are TSA friendly, efficiently organize all your tech gear, and even provide a portable charging system. Packing cubes are the latest and greatest way to easily optimize your packing capacity. Keep all your clothes and accessories well organized, and have more room left over for souvenirs.
Camera and memory cards - Make sure you adequately document your travels with the perfect camera. If you have one, why not ask Santa for the latest accessories to go with it? And, don't forget a large enough memory card! It would be heart-breaking to run out of space when you're finally standing in front of the Taj Mahal!
New Year's resolutions aren't for everyone. But, if you decide to make some for yourself, get the gifts that will help make 2017 a successful year for all that you wish you to accomplish!